Ready for another season of fresh powder, electrifying runs, and stunning mountain views? Us too. We all know the right gear is essential for a good ski season, but one piece of equipment not to be overlooked is quality sunwear.
Cocoons fitovers can elevate any ski day while keeping your eyes refreshed and ready for the next one.
UV Protection at Every Angle
Even though it may be chilly and overcast on the mountain, UV radiation is actually more intense at higher altitudes. Snow and ice also reflect sunlight, amplifying UV exposure. This means that burns can come easily. In fact, light conditions in snow are notorious for causing photokeratitis, known as "snow blindness," or a burn on the cornea.
But Cocoons have you covered for high-altitude UV protection. Our polarized, scratch-resistant Polaré lenses provide 100% UVA&B protection, and our frame designs block UV at every angle: a brow bar for overhead sun, side shields for your peripherals, and an undercarriage for reflected glare. So your eyes and the surrounding areas of delicate skin are totally protected.
Elevated Visibility, Reduced Fatigue
But while they keep your eyes completely covered from UV, Cocoons still provide crystal clear visibility and a panoramic range of vision.
Skiing demands precision, which demands peak visual clarity. Our Polaré lenses' polarization enhances visual acuity by filtering out blinding glare reflected off snow. This prevents squinting and eyestrain while improving visibility, allowing you to focus easily and take in that alpine scenery.
There are a variety of Polaré lens tints in the Cocoons collection, each designed to heighten different visual properties for peak performance. For overcast and shifting snow conditions, you might consider a yellow or copper lens. Both offer moderate light transmission and exceptional adaptability. For bright conditions, mirror finishes boost anti-reflective properties to maximize polarization and visual acuity.
Polaré lens technology keeps your eyes relaxed and able to focus with ease, allowing you to ski longer, safer, and with more focus.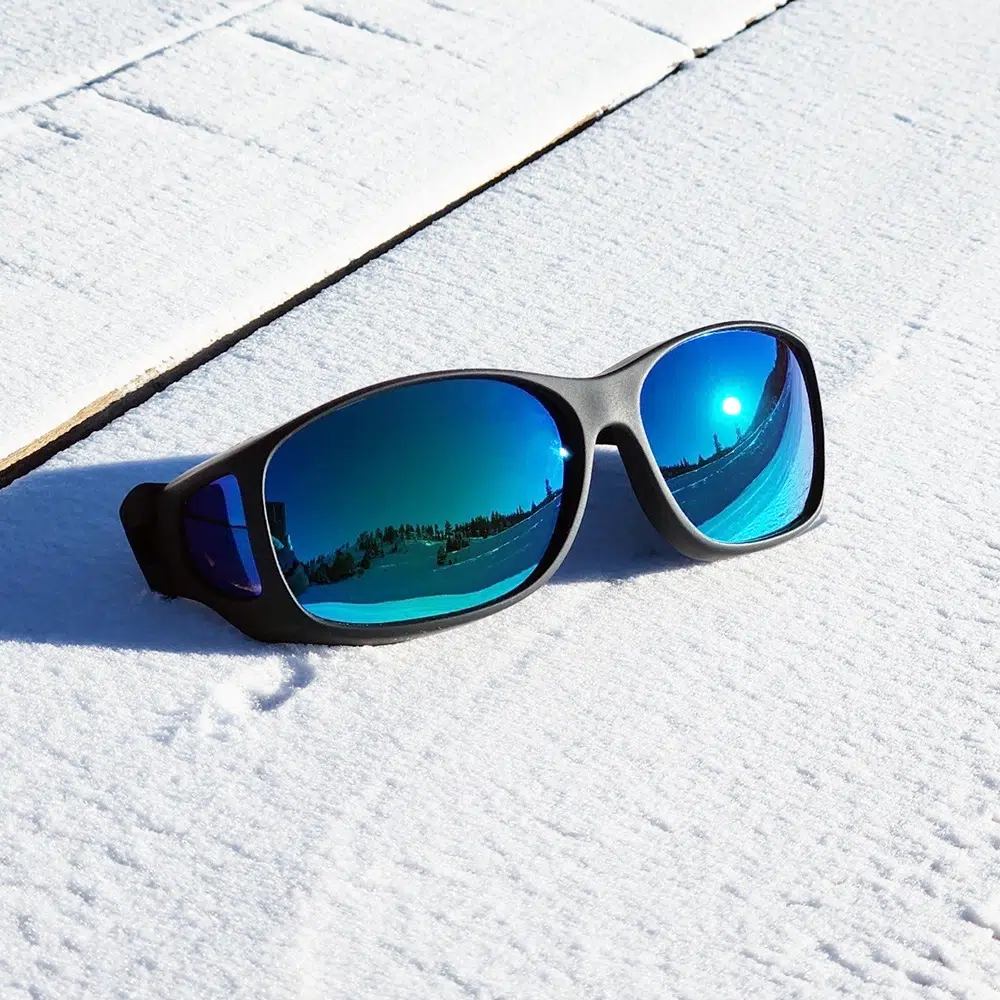 Wind Protection and Durability
Mountain weather can turn on a dime, and you can never count out some wind whipping snow and debris into your eyes. Just as Cocoons' frames and lenses work together to provide UV protection, they also make sure your eyes are totally covered from irritating and potentially dangerous wind, debris, and more. So you can stay focused on the slopes without having to blink, squint, or slow down.
In terms of durability, Cocoons are just about indestructible with normal wear. Polaré lenses are scratch resistant with an added hard coat for extra strength, and our frames are built from ballistics-grade nylon. Tough enough for the next big run — and the one after that.
Another awesome ski season is just around the bend. Take it to the next level with Cocoons for maximum protection, clarity, and comfort.